Around the age of 19, I decided to move to the U.K. Alex my brother got my collection of "sharky things" and went on to become "The Sharkman" (Check out .. Sharkman's World Organization).
This was the only time when the sea didn't play any part of my life. It was very sadly missed but there was always a yearly holiday to look forward to.
In London, various jobs were tried, Travel agent, Insurance, Security, but another passion was developing fast and that was photography. Spare time was spent walking around the city, heavy camera bag slung over my shoulder, eyes open in search of a good photo.
October 1984 I won a Vivitar Photographic Award. For three years running I also won prizes in the Selfridges Photography Competition.
Just by chance, I got into "Paparazzi" style photography. Waiting for some celebrity to turn up or leave, in the cold outside some theatre or night club doesn't sound like much fun, but when you get the "shot" it makes it all worth while.
Some of my photographs made it into British newspapers and magazines. I can still remember the joy of seeing one of my photos on a magazine for the first time.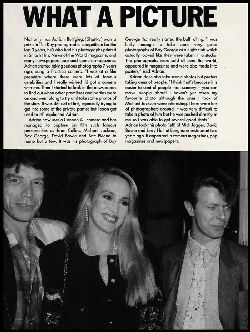 I was lucky and after a few months I became a bit more "well known". I started doing film premieres, t.v. theatre and film awards, and big show biz parties.
So here I was partying with some of the people I had admired! It was great! First time I met Paul McCartney and he shook my hand, I swore I wouldn't wash it again.
I never had any problems with anybody mainly because I took photographs where and when the celebs expected to be photographed, if I was asked not to photograph them on some particular night, I obeyed.... and missed earning lots of money!